NetFORCE-12XPR™ Forklift Computer
Advanced quad-core 64-bit CPU @ 1.8GHz
Supports up to 16-Gbytes DDR3 system memory
High-performance integrated graphics controller
Enhanced 12.1" XGA display / 1024 x 768 / 16-million colors
High-resolution touch-screen
Fully sealed enclosure certified to NEMA4/IP66
Advanced 802.11ac Wi-Fi with integrated Bluetooth
Industry standard 10/100/1000 industrial Ethernet
High-performance SSD: 256-Gbytes (or more)
mini-PCIe slot for I/O options (e.g. CANBUS, GPS, etc.)
Wide-input power-supply and internal UPS battery
Dual-diversity omni-directional antennas
Optional cold-start pre-heater and no-frost display
Rugged, compact enclosure 12.00"w x 9.50"h x 2.50"d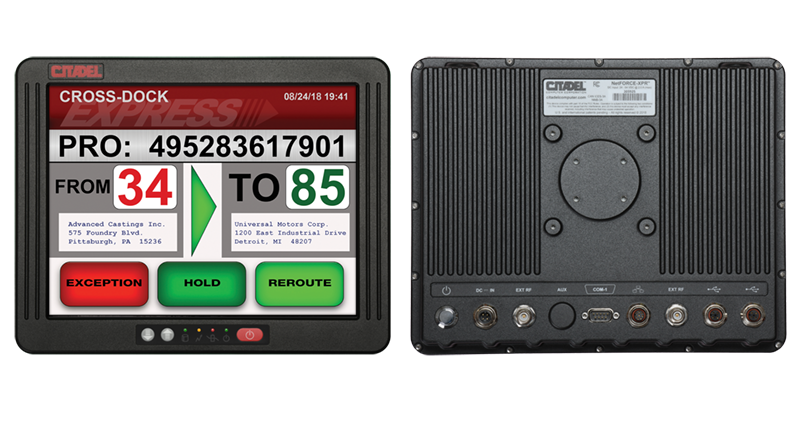 Overview
Our NetFORCE-12XPR™ industrial computers deliver rugged performance in your most demanding applications. Engineered from the ground up for harsh-environment installations in challenging fixed or mobile-mount applications, NetFORCE-12XPR™ systems are easily installed on a wide variety of industrial vehicles -- forklifts, yard trucks, hostlers, tuggers, etc.
These compact systems offer a bright, high-visibility displays with glove-compatible touch-screens that support convenient touch-based applications for efficient productivity on the move.
All NetFORCE™ configurations include our advanced wide-input power system with an internal battery-backed UPS that provides immediate protection and continuous operation whenever primary power is lost or interrupted. 
Specifications
CPU:               Advanced quad-core 64-bit CPU @ 1.8 GHz.
Memory:          Up to 16-Gbytes DDR3/1600 memory
Display:           12.1" diagonal XGA (1024H x 768V)
Touch-screen:  High-resolution touch
Mass Storage & Networking
M.2 SSD:          256-Gbytes (or more)
Wi-Fi:               802.11ac wireless with Bluetooth
Cabled:           10/100/1000 Industrial Ethernet

Expansion
   Internal mini-PCI Express slot accepts industry
   standard I/O expansion (e.g. CANBUS, GPS,
   analog & digital I/O, video, etc.)
Rugged, fully sealed power & I/O connectors
   DC-power input
   Keyboard & mouse
   Industrial Ethernet
   Dual USB channels 1 & 2
   Single RS-232 DB9
Input power options
24 to 60VDC (nominal)
12VDC with optional mobile adapter
72 VDC & above (multiple high-voltage options)
90-220 VAC 50/60 Hz. Universal AC adapter
Total input power: < 60 watts (maximum)

Environmental
Rating: UL50E Type-4 / NEMA-4 / IP-66
Temperature:   -20 ºC to +50 ºC (operating)
Humidity: 0% - 95% (non-condensing)
Vibration: MIL-810F 2.0G (15-1000Hz.) (operating)
Shock: MIL-S-901 500G / 2.0 ms (optional configuration)
HAZLOC: Class 1 / Div: 2 (optional configuration)
EMI/RFI: FCC part-15 / MIL-STD-461E
Mechanical
Width: 12.00"
Height: 9.50"
Depth: 2.50"
Weight: ~8 lbs. / 3.7 kg (typical configuration)